Detailed server specs
Host server:
Processor type 1x Xeon E3-1220-v3
Processor memory 32 GB ECC VLM UDIMM DDR3 1600MHz, (4 X 8)
Processor cache 15 MB 8 MB
Hard disk 2 x 2 TB drives
Each Single-Tenant Virtual Machine provides:
5,000 SMTP relays
File and DB backups (paid option)
Linux with cPanel available (managed & fully managed)
All these features, all to yourself.
Feel at home with cPanel®.
Hit the ground running with the industry-standard control panel you already know and love.

Built to grow with you and your clients.
New clients beating down your door? Upgrade plans at anytime without having re-provision.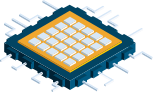 Think fast.
Crunch numbers at ridiculous speeds with the latest generation Intel® Xeon® processors.

Keep your data looking good
with disk mirroring.
You're in charge with root (administrative) access to install PHP, modules, server level proxy, and much more.

Provisioning that's ready to go now.
You and your clients don't have time to wait. We'll provision your server in minutes, not hours.
Access that makes you feel like a VIP.
Edit your server files, install Magento or PHP. Do it all with root (administrative) access.

Never lose your work again.
Travel back in time (kind of) to reclaim lost files with Site Backup. Just $4.99 for 50 GB (optional).

Need MySQL? You got it.
What server would be complete without the world's most popular open source database? Not ours, that's for sure. Get MySQL with all of our Linux server plans.